CERTIFIED USED CARS
BY BMW PREMIUM SELECTION.
BMW Malaysia offers 'BMW Premium Selection' with the finest range of pre-owned BMW vehicles that are carefully selected and comprehensively examined for quality.
BMW Premium Selection stands for the right cars with the right history. If a BMW vehicle isn't meticulously maintained, it won't achieve the BMW Premium Selection status. And, to ensure BMW Premium Selection vehicles feel exactly as a brand new BMW; every single vehicle comes with a full, detailed history about servicing, maintenance and repair.
Every BMW Premium Selection vehicle is serviced to perfection. All BMW Premium Selection vehicles go through a comprehensive 360° check and are completely refurbished technically and visually.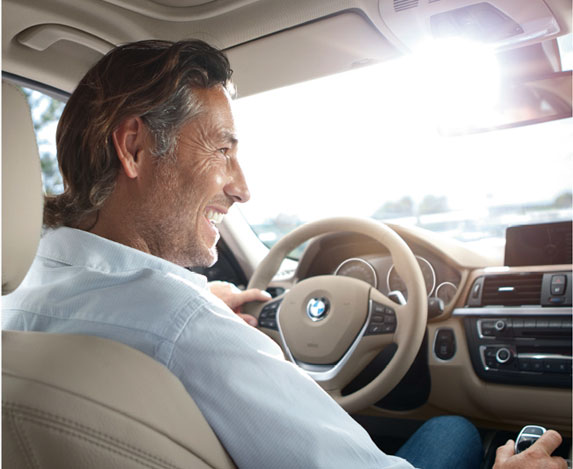 Up to 7 years warranty1 with BMW Premium Selection Each BMW vehicle, new or pre-owned, is built on the premise of sheer driving pleasure. It is what defines and drives us. And naturally, a BMW Premium Selection vehicle promises peace of mind. We strictly check every used BMW automobile before including it in our programme and thereby make it easy to provide each vehicle with a warranty which guarantees sheer driving pleasure.
OPTIONAL 2 YEARS
EXTENDED WARRANTY PROGRAMME2
OPTION TO EXTEND 2 YEARS
BMW SERVICE INCLUSIVE PROGRAMME
PREREQUISITE
Goes through BPS 360° vehicle check, operated properly and repaired with Original BMW Parts
360-Degree Technical and Optical Checks With the advantage of latest technologies and professional know-how, BMW experts meticulously inspect every inch of your vehicle. This comprises of a service history check, as well as fully resolving any flaws related to visual or technical aspects - from systems and components, to the interior and exterior of your vehicle. Thereafter, a final inspection and document check is performed, along with on-road testing, to ensure performance is nothing short of exceptional.

Dealer and Vehicle Data

Vehicle Background and Maintenance

Overall Technical Check

Overall Optical Condition (according to age and mileage)

Test Drive

Final Inspection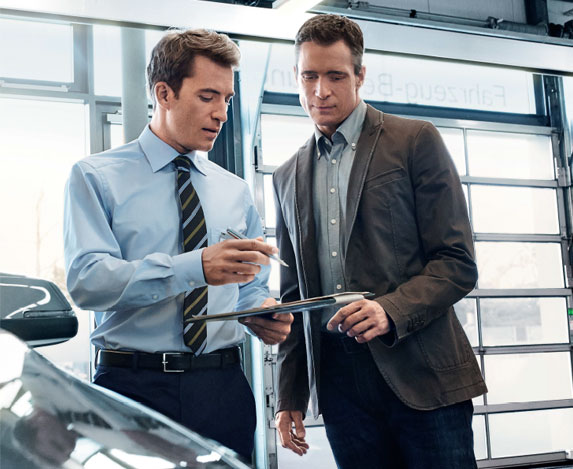 Approved Service History and Vehicle History Every BMW Premium Selection vehicle has its own story to tell - and nobody knows this story better than your BMW Service Centre. All relevant information about each BMW Premium Selection vehicle, pertaining from age to mileage, is verified and recorded. Additionally, inspections and maintenance work is documented so you can be sure that your BMW Premium Selection vehicle has always been looked after by authorised experts.

Age/Mileage Check

Full Service History Check

Accident Damage History Check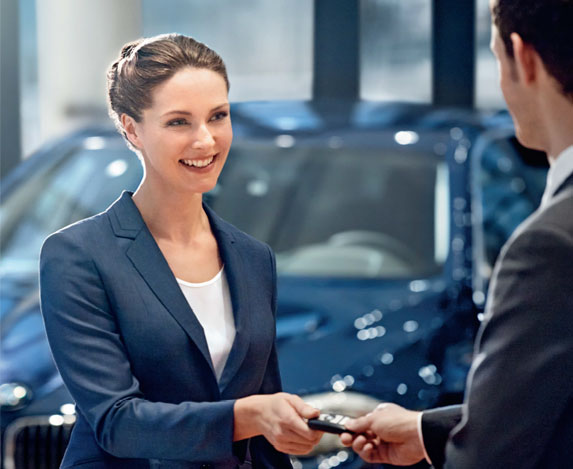 Financial Services A BMW is undeniably and unapologetically the ultimate driving machine. That's precisely why we've ensured that owning a BMW is as seamless as driving one. With several flexible plans and guaranteed benefits at every step, you can turn your dream car into a reality.
Every last detail of our financial packages is geared to suit your individual needs. All in all, your BMW comes with benefits even before you get in. So, sit back and enjoy the purest form of joy.

BMW STRAIGHT LINE FINANCING
Repay your loan and interest through equal monthly payments (regular EMls).

INSTANT PRE-APPROVAL
Experience the joy of driving by applying for your financing online. With BMW Engage, calculate your monthly instalments and submit your financing application from the comfort of your home – and get pre-approved even before you shop.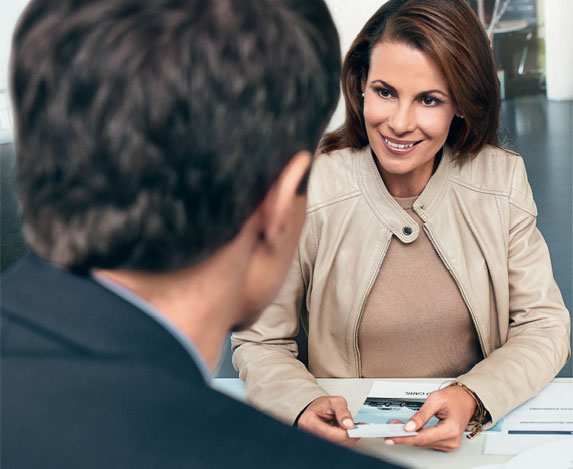 Trade-in Offers We provide specialised appraisals on trade-in vehicles to ensure you get the best sourcing for vehicles suited for your lifestyle and needs at privileged prices. And if you're pressed for time, we help with the used-car's valuation from the comfort of your home. Get in touch for an appointment and get an immediate assessment of your car.

Transparent Evaluation

Hassle-Free Transaction

Easy Documentation

One-Stop Solution for Sale and Purchase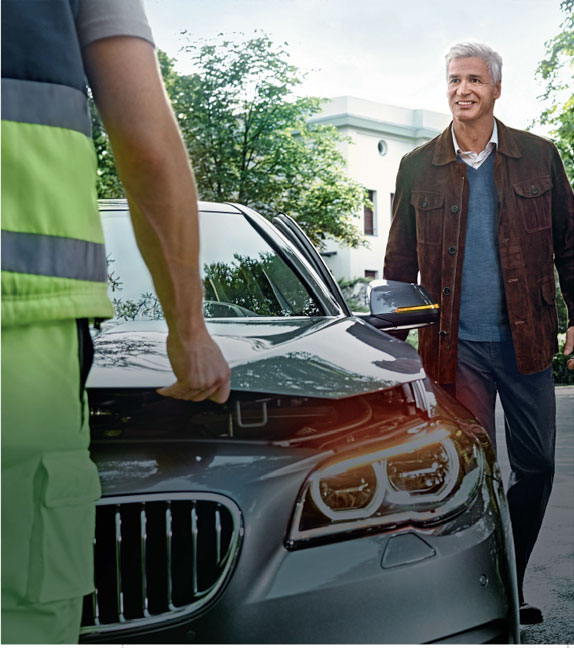 BMW Roadside Assistance Enjoy absolute peace of mind as we are at your service 24 hours a day, 7 days a week, and just a mere call away with BMW Roadside Assistance. A service that is ready to assist you with the following services:

BMW Roadside Assistance Services at a Glance3.

Roadside Assistance Call Centre

In the event of a vehicle breakdown, customer can call to Roadside Assistance Call Centre using BMW Toll Free Number 1800 88 8808 or by calling mobile care service in the connected drive option.

Help on the phone and on the spot

The team of qualified customer contact specialists are always on standby 24 hours a day, 365 days a year to provide lifetime phone assistance and BMW Customer Service Vehicle for on-the-spot repair.

Towing services

If it is not possible to repair the damage on-site, BMW Roadside Assistance will cover the cost of towing the vehicle to the nearest BMW Authorised Dealership.
Once the vehicle has been diagnosed, the service team will follow up on the repair process and keep the owner informed of the latest developments.

Seamless Mobility

The seamless mobility offered here includes providing 24/7 call centre and organizational support, on-site breakdown assistance where an immediate on-the-spot repair will be arranged, as well as providing alternative travel arrangements. This includes arrangement for a replacement vehicle on the first 5 days of the repair. In cases where breakdowns occur a distance at 200km away from a customer's residential home and an overnight accommodation is required, BMW Roadside Assistance can assist to accommodate customers at a nearby hotel if required.

Repatriation

In the event a breakdown occurs abroad and if the car cannot be repaired on-site and the customer requires to be somewhere urgently, repatriation service will be offered if customer's vehicle needs to be returned 200km away from his registered address and no cost to customer.
1 The total warranty duration will vary based on a vehicle's remaining warranty. For example, a vehicle can have up to 5 years warranty remaining, and with the addition of 2 years BMW Extended Warranty Programme, the total warranty duration can be up to 7 years.
2 Terms and conditions apply. BMW Extended Warranty is a limited warranty plan underwritten by Allianz General Insurance Company (Malaysia) Berhad 200601015674(735426-V). The description of the available cover is only a brief summary for quick and easy reference. The precise terms, benefits, conditions and exclusions that apply are stated in the Policy.
3 Benefits only applies to vehicle(s) which has been certified by an Authorised BMW Dealership. Limitations apply, for detailed terms and conditions, please contact your Authorised BMW Dealership.